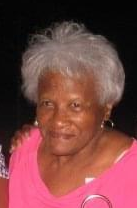 Share Your Memory of
Dorothy
Obituary of Dorothy Jean (Moore) Goode
Dorothy Jean (Moore) Goode was born on June 25, 1932, in Winnsboro South Carolina to the parents of Lonnie and Willie Moore. She was a lovely daughter and outgoing sister. She was the youngest of four children all of whom are now deceased. She was a member of Bethlehem AME Church in Winnsboro South Carolina. She dreamed of becoming a nurse, but that changed when she met Alvin Leon Goode, her deceased husband in Washington DC.
She became a member of Kent Baptist Church, in Landover Maryland, in the early 1970's, where she was a faithful member and proud usher. She loved greeting people and somehow always knew spiritually, what their needs were. She would tell the guest, God loves you and I am praying for you.
Dorothy spent her years raising her children to love the Lord, respect individuals, and love their neighbor. Despite the hardship of raising ten children, her faith was ten times stronger than all the circumstances she encountered. She knew God was with her and there was absolutely nothing to stop her from believing in the almighty God.
Because of her strong faith, she taught her children, her beliefs and, to always pray and thank God each day for their blessing. She was a mother who never said no, I can't, or it can't happen. She knew how powerful prayer was. She stayed on her knees especially when times were tough and hard. She would say, my God shall supply all mine needs and He did.
Mother will be missed immensely. She would say, don't cry for me because I am now with the Lord. Love your family, take care of them, and never stop praying for them. She would say, today I am in a place of rest where I can see mother and father. Where I can love on them like never before. She would say, I am happy to be in the presence of the almighty God.
Mother will be buried in Winnsboro, South Carolina on Saturday, October 7th at Bethlehem AME Church burial site at 11:AM. This was a dream of hers. She leaves behind five daughters, Vernice Moore, Janet Goode-Brown, Tina Goode, Diane Luers, and Toni West; four sons, Alivn Leon Goode, Jr., Ricky Goode, Michael Goode, and Timothy Goode; twenty-six grandchildren, and a host of great-grandchildren including family and friends.
Mom will be missed. Amen!!
Graveside Service
11:00 am
Saturday, October 7, 2023
Bethlehem AME Church
3276 Smallstown Road
Winnsboro, South Carolina, United States

Get Directions

POWERS FUNERAL HOME
Address: 832 Ridgeway Rd Lugoff, SC 29078
Mailing Address: PO Box 65 Lugoff, SC 29078