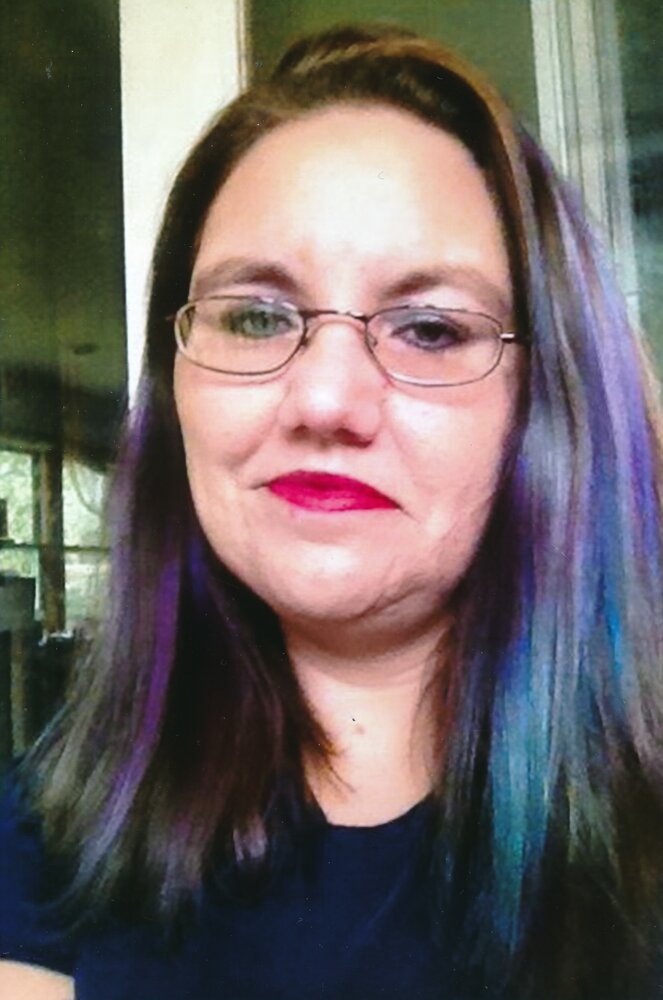 Share Your Memory of
Melissa
Obituary of Melissa Kay Brown
CHESAPEAKE, VA - Melissa Kay Dozier Brown was born on January 1, 1981 to her adoring parents Donald and Kathy Dozier just minutes too late to be claimed on taxes, darn it! But, she was the first baby to be born in the Northeast area so she won many gifts and had her photo on the front page of the local paper.
Melissa grew up in many states including South Carolina, California, Oklahoma, Washington, Virginia and Maryland. As a child she was always happy when she was with family and followed her brothers everywhere. She loved to laugh, music, acting, playing the flute, and she wished she could have done gymnastics. In her adult life she picked up a love for crocheting and an unmatched skill and passion for home design. She carried her love of music on being an avid listener of rock and metal music and attending many concerts. Melissa also had an amazing memory for random facts that she would delight her audiences with. Her most beloved trait, however, was her loyalty and unconditional love for her family and friends. And by the way, she still wants to be with her brothers wherever they go.
In 1995 she met Adger Brown, a lifeguard at a local community pool, and that's where their love story begins. They fell fast and hard for each other and married on May 3, 1999. Melissa adored Adger, believing he was the best part of her, he was her heart. Melissa and Adger have 4 beautiful children, Kaleb Brown, David Brown, Jacob Brown and Henry (Max) Brown. One thing that was abundantly clear about Melissa, she was a fiercely protective mama bear and protected her family in overdrive. She recognized each one's individual needs, which is one of the reasons she decided to homeschool all four of them. In the summer she delighted in caring for her niece Haleigh Dozier. She frequently became Mama to many neighborhood children, including Little AJ their unofficial adopted son. She could often be found in deep conversation with one of her children, being a great listener and comforter.
Melissa never stopped learning, she was incredibly intelligent and a great researcher. Although she dropped out of school as a teen, she would later go on to earn her high school diploma and associate's degree in Child Psychology from the University of Phoenix. After her associates degree she continued her education at Penn Foster studying Hospitality Management and working on a Medical Coding Course.
Even when losing, Melissa was a loyal Gamecock fan wearing her Gamecock shirt every game day with pride and still carried a Gamecock purse to the day she left us. Of course, this one was equipped with a compartment for her gun. She was an avid supporter of gun rights and earned her Concealed Weapons Permit so she knew gun safety. As a lifelong learner she also spread her knowledge of gun safety with her children so they knew how to be safe as well.
Melissa had a deep and beautiful relationship with God through her Catholic faith. In later years her illness often kept her from church, but she wouldn't let that stop her. She kept her faith strong by reading and studying religious articles, books and stories on faith. She would also pray the rosary, especially during hospital stays. When she was in the hospital she would let them know she was Catholic so someone could come by to pray with her, read the readings and receive communion.
Melissa was a great friend, as evident to the many she has kept for over 25 years. Her house was always filled with friends who would come over to have a good time with the house filled with music, food, children playing and lots of conversation. Some of these friends would not leave for months because if you needed a place to stay for a while, Melissa would take you in. If you needed a ride somewhere, she would be there. If you needed some clothes, she would find or buy you some. Need food? She always had enough to feed an army. Some people bring home stray animals, Melissa brought home people.
Melissa is survived by her husband, Adger Brown, her children, Kaleb, David, Jacob, and Henry (Max) Brown, her parents Donald and Kathy Dozier, her brother Marshall, sister-in-law Cassie Dozier, her nieces Destiney Gardner, Haleigh, Hannah, Madelyn, and Raegan Dozier.
She is predeceased by her brother Ronald (Ziggy) Dozier.
A rosary will be held Friday, April 28,2023, at 5:30pm with a visitation to follow until 7:30pm at Powers Funeral Home. The funeral mass will be held on Saturday, April 29, 2023, at 11am at Our Lady of Perpetual Help Catholic Church.
Rosary
5:30 pm - 6:00 pm
Friday, April 28, 2023
Powers Funeral Home
832 Ridgeway Rd
Lugoff, South Carolina, United States
803-408-8711
Visitation
6:00 pm - 7:30 pm
Friday, April 28, 2023
Powers Funeral Home
832 Ridgeway Rd
Lugoff, South Carolina, United States
803-408-8711
Funeral Mass
11:00 am
Saturday, April 29, 2023
Our Lady of Perpetual Help
1709 Lyttleton St
Camden, South Carolina, United States

POWERS FUNERAL HOME
Address: 832 Ridgeway Rd Lugoff, SC 29078
Mailing Address: PO Box 65 Lugoff, SC 29078