Call Now
Phone: (803) 408-8711
Available 24/7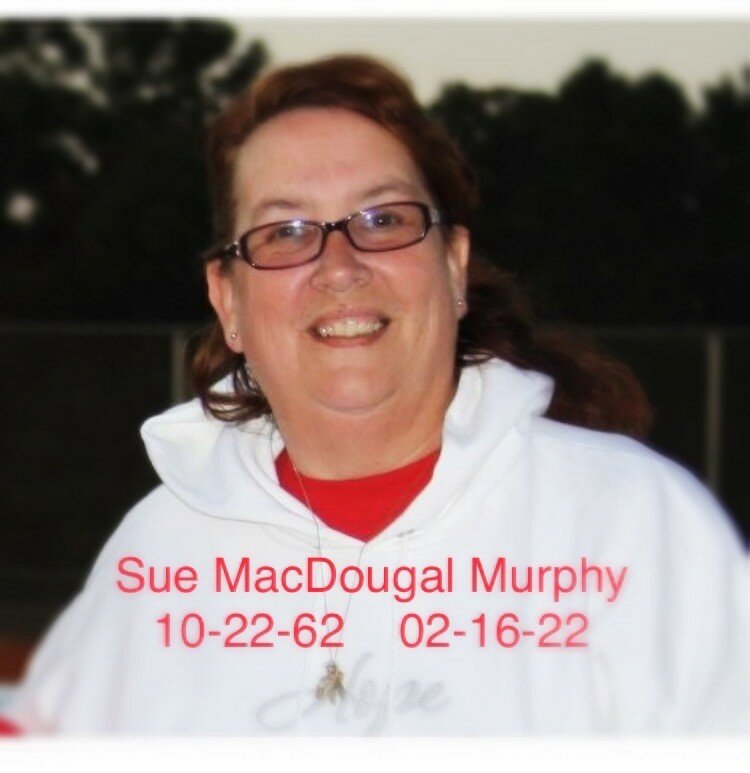 Share Your Memory of
Susan "Sue"
Obituary of Susan "Sue" Elizabeth Murphy
Susan "Sue" Elizabeth MacDougal Murphy, 59, of Ridgeway, SC, passed away on Wednesday February 16, 2022. Born in Brockton, MA, on October 22, 1962, she was the daughter of the late Frances Elizabeth Heaney MacDougal and Maurice "Mac" Leslie MacDougal. Sue grew up in Rockland, MA where she graduated from Rockland High School in 1981. She moved to Camden, SC in 1982 with her parents and brother, Mark, when her father's job was transferred from Massachusetts. The family started over and proceeded to build deep, lasting roots. Sue eventually met and married the great love of her life, Greg Murphy. Sue not only married Greg, but she also became part of the Murphy clan with Greg's parents, Dianne and Rudy, and Greg's two children, AJ and Niccie. At the age of 39, Sue got the surprise of a lifetime when she discovered she was pregnant - with twins! James and Jared were born and made Sue's world complete.
Sue worked for years at the Ridgeway Gold mine and in the accounting department at the VC Sumner power plant before retiring in 2017.
Most people know Sue because of her deep love for dirt track stock car racing. She is known by many as "Mama Sue." She started as a fan, going with Greg to races at local dirt tracks where she found a favorite driver, David Scott. She later convinced her brother, Mark to invest in and build a family race team. Team 65 and MacD Racing Partners was created and a labor of love began for Sue. Soon, Greg moved up from crew to driver. When Sue's sister Maureen moved from Massachusetts to SC, she and David started dating and eventually married. When David died in 2013 from cancer, the team was crushed but we picked up the pieces and moved ahead with Greg as our lead driver until eventually James and Jared were old enough to get behind the wheel. They then moved up with James ultimately taking over driving duties with Jared as his trusted chief and partner. Team 65 eventually settled into the racing family at Sumter Speedway, winning championships and making many friends.
The number of racing teams, family and friends Sue made over the years was staggering and the list is just too long to name them all. Sue and her sister Maureen were always first to take off running when a bad wreck happened on the track. They didn't run to the wreck, however, but to the spouse or girlfriend of the driver to provide comfort. It's what she did. Supporting her racing family was her labor of love. While deeply competitive, she also always insisted that our team act with integrity, honesty, and kindness and that is what we did and continue to do. Sue lived her life loving her family and doing what she loved best.
In addition to her parents, Sue was predeceased by her beloved mother in-law, Dianne Murphy; father in-law, Rudy Murphy; her brother, Miles Bernard MacDougal; and sister, Kathleen MacDougal Helliwell (George).
She is survived by her husband, Gregory "Greg" Allen Murphy of Ridgeway, SC; daughter, Ashlie "Niccie" Nicole Holley (James) of Winnsboro; sons, Gregory "AJ" Allen Murphy, Jr., James Alexander Murphy, and Jared Miles Murphy, all of Ridgeway, SC; her siblings, Michael Leslie MacDougal (Wanita) of North Charleston, SC, Maureen MacDougal Caine Scott (David) of Elgin, SC, and Mark Alan MacDougal (Sam) of Myrtle Beach, SC; her beloved grandchildren, Lauriana Murphy, Austin Murphy, Jesse "JJ" Holley, Jr., and Wyatt Holley; nieces, Cheryl Anne MacDougal Marshburn (Vincent) of Homestead, FL, and Lauren Frances Caine of Elgin, SC; and nephews, Jason Lubin (Shiane) of Missouri City, TX and Michael James Caine of Elgin, SC. She was also blessed with seven great nieces and nephews and many beloved cousins. Because of her deep love for her friends, Sue also leaves behind a huge extended family. This includes her lifelong closest friend Maria Glenn (Nicole) of Vancleave, Mississippi; the family of Dave Harding and his late wife, Traci in Rock Hill, SC, and their daughter, Ashley Harding McHenry (Matthew) and their children, all of Germany.
Graveside Services will be held at 11:00am on Sunday, February 20, 2022, at Centerville Cemetery, officiated by Dr. Sam George.
Graveside Service
11:00 am
Sunday, February 20, 2022
Centerville Cemetery
867 State Rd S-20-67,
Ridgeway, South Carolina, United States

Get Directions

POWERS FUNERAL HOME
Address: 832 Ridgeway Rd Lugoff, SC 29078
Mailing Address: PO Box 65 Lugoff, SC 29078