Call Now
Phone: (803) 408-8711
Available 24/7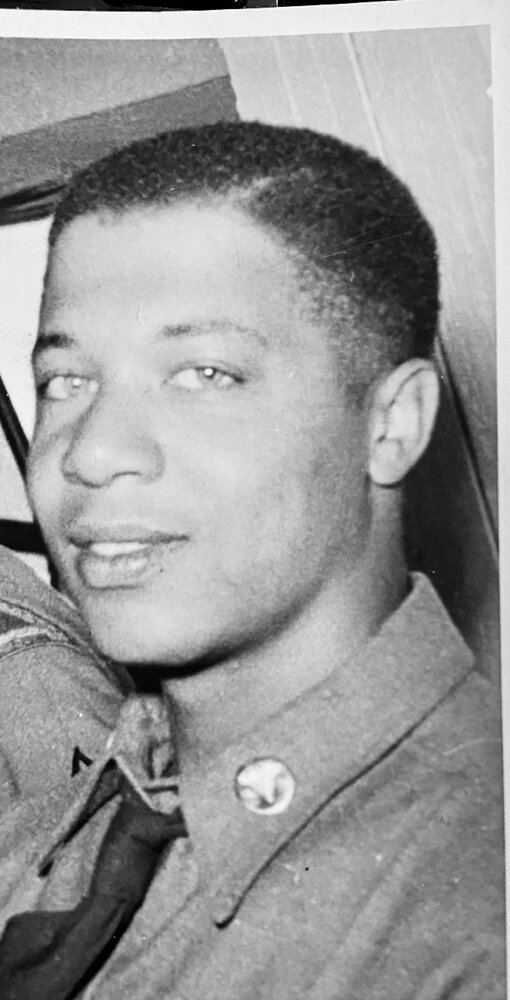 Share Your Memory of
George
Obituary of George Washington, Sr.
George Washington, 93, earned his eternal wings on December 27, 2021 in Lugoff, SC. He was born in Bunnell, Florida on October 17th, 1928, to the late Charles Wallace Washington, Sr. and the late Clarice Lundy Washington.
He was a devoted husband, father, grandfather, great-grandfather, and friend; and was beloved by all. All knew him as a man who was highly respected in the community, very humorous, intellectual, a skilled craftsman, and a very strong disciplinarian with his four boys. He accepted the Lord Jesus Christ and recently recommitted his life to Christ and was baptized in the Lord's Church on September 19th, 2020.
At the age of 14, in 1942, he moved and met his oldest brother, Charles, in the city of Bridgeport, CT. There he met his brother and began his journey growing up in Bridgeport, where he immediately got a job working at the Bridgeport Brass manufacturing company working part-time while going to school fulltime at Harding High School. Also, he received his certification from Florida Agricultural and Mechanical College in 1946. After receiving his certification, George began to work for his brother Charles at the Bridgeport Foundation Company for a couple of years. At the age of 22, George enlisted in the Army as a Medic. Because of his exemplary leadership, he was invited to attend the Non-Commissioned Officer Training Academy in Munich Germany for 6 weeks. The mission was to develop competent leaders, teach them how to instruct and lead. While on leave, he traveled to Selma, Alabama, where he met the apple of his eye, Ms. Oneita Pauline Mitchell. As George would say, it was love at first sight. She was a beautiful waitress serving him the best quality of food and beverage. Soon after, in 1955, they were married and a baby was on the way, a bouncing baby boy named Calvin Louis Washington, born 9/10/55. Oneita wanted George to get out of the Army and raise their baby in Bridgeport CT, so George received his honorable discharge and started working with his Uncle Charles Washington along with his brothers John and Willie Washington once again in the construction business where they build many houses in the Fairfield County area. In 1965, George started working for Carpenter Steel Technologies as a lay worker and, he joined the VFW where he served as Sr. Vice Commander from 1966-1967, and from 1967-1968 he served as Post Commander at Post 9991 and became a Life Member. In 1972, tragedy hit our family when Oneita Washington passed away due to medical complications at the age of 39. This was devastating to say the least, leaving behind four boys and a husband. They were married for 17yrs.
In 1973, George met a young lady by the name of Betty C. Swartz of Danbury, CT who was running for a local office in Alderman. When she met the love of her life, she withdrew from her political career and fell in love. They had so much in common from fishing, traveling, family gatherings, to playing cards on Friday and Saturday evenings. They were married for 38yrs.
In 1977, George was promoted to Supervisor where he successfully completed the pre-supervisory skills, personal development program at Cartech where he managed over 30 people on his shift. He received another promotion in 1984 as a Managing Supervisor for successfully completing the management supervisory program.
In 1988, George and Betty retired, leaving Bridgeport to move closer to family members and very close friends. They headed to Lugoff, SC to live the rest of their years together. Betty passed away in 2011. George lived the rest of his life, reminiscing the good old days of the Bridgeport life: fishing, VFW meetings and outings, boating, fish-fry's, 4th of July celebrations and traveling.
He was married to Oneita P. Washington (deceased) and Betty C. Washington (2nd wife-deceased). He leaves one living brother, John L. Washington (95) (wife Portia Washington-deceased), and two deceased brothers, Charles W. Washington, Jr. (wife Celestine Washington-deceased), and William "Willie" J. Washington (wife Lila Washington-deceased). His sons from oldest to youngest, Calvin L. Washington Sr. (deceased) (wife Lona Jones-Washington), Joseph C. Washington (wife Donna M. Washington), Randy T. Washington (deceased) (wife Michelle Washington), and George B. Washington, Jr. (wife Ericka S. Washington); 10 grandchildren, 11 great-grandchildren and a host of nieces, nephews, and friends.
A Homegoing Celebration for George will be held at 11:00am on Saturday, January 1, 2022, at Powers Funeral Home, Lugoff. The family will receive friends at the funeral home following the service.
Homegoing Celebration
11:00 am
Saturday, January 1, 2022
Powers Funeral Home
832 Ridgeway Rd
Lugoff, South Carolina, United States
803-408-8711

Get Directions

POWERS FUNERAL HOME
Address: 832 Ridgeway Rd Lugoff, SC 29078
Mailing Address: PO Box 65 Lugoff, SC 29078