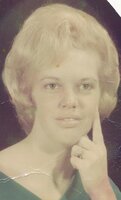 Rachel Elizabeth Worley
Rachel Elizabeth Hinson Worley, 76, of Elgin, passed away on Saturday, January 28, 2023. Born in Lenoir, NC, she was the daughter of the late A.P. and Dora Outlaw Hinson and the wife of the late Franklin H. Worley, Jr. Rachel loved Jesus and always put Him first. She would end every phone conversation with, "God Bless." She also enjoyed playing solitaire, watching soap operas, and sitting on her front porch keeping up with the neighborhood gossip. Rachel also made sure to start every day with a cup of coffee and a slice of cheesecake. Above all, she loved her children and grandchildren and cherished spending time with her family.
Rachel is survived by her children, Richard Worley, Steven Worley, Angela Brimson, Melissa Worley Roberts, and Tonya Worley; her siblings, Carol Ruth Johnson, Dolly Hinson, and Bobbie McRay; as well as 11 grandchildren and 6 great-grandchildren.
In addition to her husband and parents, Rachel was preceded in death by her siblings, Doris Kirby, Lonnie Hinson, and Tommy Hinson.
A Celebration of Life will be held at 2:00pm on Saturday, February 4, 2023, at Powers Funeral Home, Lugoff. The family will receive friends at the funeral home immediately following the service.
In lieu of flowers, memorials may be made to St. Jude Children's Hospital, www.stjude.org/donate.