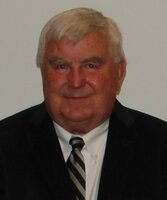 Willie Mickle
A service to celebrate the life of Willie Mickle will be held Sunday, November 27, 2022 at 2:00 p.m. at Springvale Baptist Church. The family will receive friends on Saturday, November 26, 2022 from 5:00 p.m. to 7:00 p.m. at Powers Funeral Home. The Rev. Todd Horton and Rev. Larry Frazier will officiate. In lieu of flowers, memorials can be made to Lugoff-Elgin Trident Club.
Mr. Mickle passed away Wednesday, November 23, 2022. Born in Camden, SC, he was the son of the late Robert Thomas and Emma Lee Rabon Mickle. Mr. Mickle was a proud member of The Lugoff Optimist Club, SCAA (South Carolina Athletic Administrator Association), Newberry College Alumni Association, and The Coffee Club. He was the former Principal of Lugoff-Elgin High School and enjoyed being a part of the Kershaw County School District. He loved his staff and former students, sports, and heckling umpires. He was a former member of the Kershaw County Council. Mr. Mickle's pride and joy was his family and he cherished every minute spent with them.
Surviving are his wife, Roetta Dean Mickle; daughters, Tammi Mickle Lynch (Rusty) and Mitzi Mickle Doolittle (John); and grandchildren, Will Dorton (Allison), Carrie Brown (Adam), Jay Lynch, and Justin Dorton (Gracie).
He was predeceased by his parents, Robert Thomas and Emma Lee Rabon Mickle; and siblings, Pearl Ford, Alberta Hoffman, Robert Mickle, George Little, Sarah Jane Hoffman, Mary Ella Mobley, Mamie Deal Funderburk McNulta, Mendel Smith, Robert Thomas Jr., Irene Munn, Margaret Rabon Byars and Bobby Glenn.