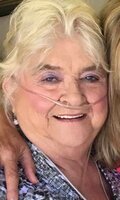 Audrey Lucille Cullen Chase
LUGOFF - Audrey Lucille Cullen Chase, 80, of Lugoff, passed away on Tuesday, November 15, 2022. Funeral Services will be held at 3:00pm on Friday, November 18, 2022, at Powers Funeral Home, Lugoff. The family will receive friends at the funeral home prior to the service, beginning at 2:00pm. Burial will follow the service in Hardshell Cemetery, Lugoff.
Mrs. Chase passed away on Tuesday, November 15, 2022. Born in Rochester, N.H., she was the daughter of the late Thomas Cullen and Patricia Dearborn Cullen, and the wife of the late Robert Chase. She had an infectious smile and never met a stranger. Mrs. Chase enjoyed puzzles, crafts, and yard selling.
Surviving are her children, Linda Emerson (Neil), Christina Crump (Scott), Robert Chase (Cheryl), Victoria Goff, and Brianna Widgeon; siblings, David Cullen, Sandy Cullen, Mary Leveque, Larry Cullen, Susie Dionne, and Daniel Cullen; as well as 21 grandchildren and 45 great-grandchildren. She was predeceased by her children, Bonnie Nolen, Jimmy Chase, and Audrey Ann Chase; her siblings, Billy Cullen, Dennis Cullen, Jimmy Cullen, and Aurora Cullen; and her son-in-law, Dale Goff.