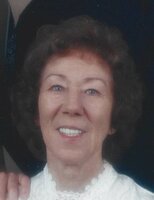 Judith Ann Larusch
ELGIN- Judith Ann Larusch, 84, passed away at her home on Monday, September 26, 2022. Born in Leicester, England, she was a daughter of the late Christopher Stamer and Florence Lillian Siddons Collins. Judith retired as the Director of the Columbus, GA Girls Club. She enjoyed painting, painting ceramics, decorating, and baking and decorating cakes.
Surviving are her children, Theresa Marie Gonzalez of Elgin, Jonathan Keith Memmo (Terri Washington) of Columbus, GA, Mikelyn Allred Crawford of Clarksville, GA; grandchildren, Arthur Randall Gonzalez (Brenda Moreland), William Dementro Gonzalez, Mark Lane Memmo (Cheryl Nicole), Kylie Grace Memmo; siblings, Keith Collins, June Collins; and great-grandchildren, Arturo Randall Gonzalez, William Dementro Gonzalez, II, Olivia Gonzalez, Mckenna Laynce Memmo, Colton Mark Memmo, and Kylie Jean Culberson.
A celebration of life service for Judith Ann Larusch will be held at a later date. In lieu of flowers, memorials may be made to The Columbus, GA Girls Club at 1700 Buena Vista Road, Columbus, GA 31906.