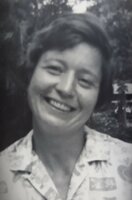 Juanita Lyvonne Artlip
Juanita Lyvonne Artlip, 91, of Elgin, SC and formerly of Florida, passed away on Friday, May 6, 2022. A native of Ironton, OH, she was the daughter of the late Evan and Martha Darby Johnson, and the wife of George Henry Artlip. Mrs. Artlip worked for 16 years as a Teacher Aid for many years for the Hillsborough County School District in Florida. She was a loving wife, mother, and grandmother who will be deeply missed.
In addition to her husband, Juanita is survived by her children, Connie S. Shultz (Farrell), Kim S. Artlip (Robin), and Kevin S. Artlip (Kathleen); her grandchildren, Nicole Noble, Kevin S. Artlip, Jr., Kristofer Artlip, Matthew Gilbertson, and Megan Gilberston; and great-grandchildren, Adriyanna Roberson, Nathaniel Noble, Ian Gilbertson, and Brody Gilbertson.
A Celebration of Life Service will be held at 11:00am on Wednesday, May 11, 2022 at Powers Funeral Home, Lugoff. The family will receive friends at the funeral home immediately following the service.