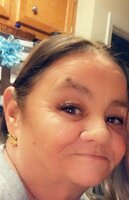 Bonnie Osment
LUGOFF - A Memorial Service for Bonnie June Nye Osment, 61, will be held Friday, May 6, 2022 at 3:00 p.m. at The Journey PHC. The family will receive friends Thursday 6-8 p.m. at Powers Funeral Home. The Rev. Robert Sloan will be officiating.
Mrs. Bonnie was born May 30, 1960, to the late Herbert Leslie and Margaret Geneva Williams Nye, in Columbia, South Carolina. She was a homemaker and took care of her daughters for her entire life. She enjoyed animals, gardening, shopping, fishing, friends and her music (Hey Alexa). She was a part of the 4-H club when she was a child. Above all else she enjoyed spending time with her family the most.
She is survived by her companion, Andrew Jackson Bateman; daughters, Kandie Comstock (Stephen), JoAnn Jackson (Ryan) and Ashley Osment (Jamie); sister, Dana Nye Alderman (Michael) and Ivonne Schuster; brothers, Herbert Leslie Nye Jr. and Paul Nye; grandchildren, Holly, Faith, Jason, Brianna, Jase, Grayce, Brayden, Laykenn, Jaida and Haley; great-grandchildren, Willow, Owen, Brynlee and Hensleigh; a bunch of nieces and nephews and her dog, Patches.
She was predeceased by her late husband of 29 years, Larry Osment; parents, Herbert Leslie and Margaret Geneva Williams Nye; sisters, Margaret Fayne Justice, Phyllis Leona Kimbler, Marie Marquitta Schultz and Toni Melissa Dantzler; and brother, Herbert O'Neal Nye.
Memorials may be made to Theil-Meyer Pet Adoption Center.