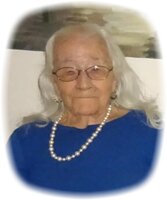 Maggie Outten Lee
LUGOFF – Graveside service for Maggie Outten Lee, 90, will be held on Saturday at 11:00 a.m. in Fort Clark Baptist Church Cemetery. Public viewing will be held on Friday from 1:00-5:00 p.m. at Powers Funeral Home, Lugoff.
Mrs. Lee, wife of the late Bubba Lee, passed away on Wednesday, March 30, 2022 at Pruitt Health Ridgeway. Born in Lugoff, she was the daughter of the late Ruben and Eliza Harris Outten.
Surviving are her children, Floyd Outten and Lindsay Thompson; siblings, A.B. Outten and J.B. Outten; grandchildren, Wesley Outten, Cleatis Outten, and Sierra Dixon; great-grandchildren, Deiagus Dixon, Deandre Dixon, Olivia Outten and Wesley Outten, Jr.; and a host of nieces and nephews. She was predeceased by daughter, Daisy Outten; and siblings, Pauline Outten, Mamie Outten, Lois Outten, Eva Outten Belton and D.W. Outten.