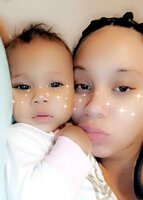 Kristina Alexis Branham
Kristina Alexis Branham departed this earthly life on Tuesday, March 22, 2022. She was born on March 17, 1998 and attended Kershaw County Public Schools.
Alexis leaves fond memories to be cherished by two children, Kelshawd Keller and Malaysia Branham; her mother, Faye Lynn Purvis-Williams of Columbia, SC; her father, Leon (Virginia) Jefferson of Cassatt, SC; three sisters, Jessica E. Wright of Cassatt, SC, Tabitha G. Johnson of Fayetteville, NC, and Maggie A. McCray of Bishopville, SC; two brothers, Jammie D. Wright and Robert W. Nelson of Cassatt, SC; two aunts, Sarah Golson of Pine Ridge, SC and Dorothy Jefferson of Camden, SC; three uncles, Ricky (Amy) Purvis of Lugoff, SC, Edmond Jefferson, III, and Donnie (Teletha) Jefferson, both of Camden, SC; and a host of great aunts, uncles, cousins, nieces, nephews, other relatives and friends.
Alexis was preceded in death by her grandparents, Edmond (Pearlean) Jefferson and Bobby (Geraldine) Branham; and a sister, Leanne Wright.