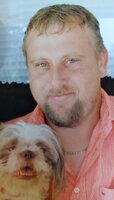 James Anthony "Tony" Lee
LEXINGTON – A graveside service for James "Tony" Anthony Lee, 48, will be held at 3:00pm at Greenhaven Memorial Gardens, Elgin on Tuesday, February 15, 2022. The family will receive friends prior to the service from 1:00-2:30pm at Powers Funeral Home. In lieu of flowers, memorials may be made to Thiel-Meyer Pet Adoption Center.
Mr. Lee passed away on Friday, February 11, 2022. Born in Columbia, S.C. on January 24, 1974, he was the son of the late Thomas Allen Lee, Sr. and Joyce Provo Lee. He was an avid dragracer in the modified circuit and an excellent diesel mechanic. He enjoyed traveling, playing pool, fishing, hunting, and spending time with his grandchildren.
Surviving is his wife, LaDonna Gail Lee; stepchildren, Shannon Murphy and Justin Murphy; grandchildren, Erin Garcia, Hunter Murphy, Haylee Murphy, Hollee Murphy, and Elizabeth Murphy; brother, Thomas "Tommy" Allen Lee, II (Debra); and his puppy dogs, Cotton and Jasper Lee.