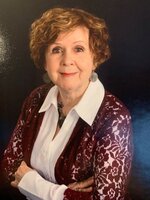 Judith L. Sedlar
CAMDEN- A funeral service for Judith Lynn Sedlar, 77, will be held Tuesday at 11:00 a.m. at Hermitage Baptist Church with burial to follow in the church cemetery. The Rev. Mark Hopkins will officiate. The family will receive friends prior to the service from 10-11 a.m. in the church family life center. In lieu of flowers, memorials may be made to the Hermitage Baptist Church Legacy of Faith Building Fund.
Mrs. Sedlar passed away Friday, January 14, 2022. Born in Camden, she was a daughter of the late Thomas M. and Evelyn E. Marsh. She was a member of Hermitage Baptist Church where she was a faithful member, serving as a Sunday school teacher, and an Awana Cubbies Director. Mrs. Sedlar enjoyed crafts.
Surviving are her husband, Martin L. Sedlar; daughters, Paige Beatty (Michael) of Mt. Vernon, MO, Kanda Ryon (Jeff) of Troy, MO; son, Brent Sedlar of Phoenix, AZ; a sister, Teresa Marsh of Camden; 3 grandchildren; and 2 great-grandchildren. She was predeceased by a brother, Donald Marsh.