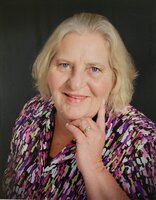 Dianne Robinson Hardin
CASSATT – Funeral service for Dianne Robinson Hardin, 66 will be held on Tuesday at 2:00 p.m. at Cassatt Baptist Church with burial to follow in the church cemetery. The family will receive friends Monday at 6-8 p.m. at Powers Funeral Home, Lugoff. In lieu of flowers, memorials may be made to the Susan G. Komen Foundation, 13770 Noel Road, Suite 801889, Dallas, TX 75380.
Mrs. Hardin, wife of the late Marshall Lee Hardin passed away at home on Friday, January 14, 2022. Born in Camden, she was the daughter of the late Ralph Ray Robinson and Eloise Robert Robinson. She retired from the South Carolina Department of Corrections after 19 years of service. She was a member of Cassatt Baptist Church and attended Frontline Biker Church. She enjoyed kayaking, gardening, cutting grass, dancing, tending to her animals, but most of all spending time with her family.
Surviving are her children, Marshall Lee Hardin II (Angie) of Kershaw, Darrell Hardin (Danielle) of Cassatt and Amanda Hardin (Ralph McLeod) of Camden; brothers, Ralph Ray Robinson Jr. (Darlene) of Cassatt and Allen Robinson (Donna) of North Carolina; brother-in-law, Larry Brazell of Cassatt; grandchildren, Trey Hardin, Robert Hardin, Brittany Hardin, Sarah Hardin, Alisiana Hardin, D.J. Hardin, Tyler Freeman and Kristin Freeman; and a great-granddaughter, Briah Williams. She was predeceased by sister, Joan Robinson Brazell.