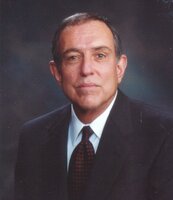 John W. Moyer
John W. Moyer, 78, beloved husband, father, grandfather, brother, uncle and friend died peacefully on Wednesday, January 12, 2022. John was born on October 22, 1943, in Ft. Wayne, Indiana, the son of the late Darlene and E. K. Moyer. After graduating high school, he began a career in the military.
While serving in the United State Navy, through mutual friends, he met the love of his life, Ruth Anne Richardson, and they married on July 25, 1964. The Moyers have one son, David Edward, who is married to Angela Funk Moyer. They have three grandsons: Aaron Kennedy, Mitchell Moyer, and Joshua Moyer. He is survived by his sister, Margaret Lovely and her husband, Ronnie.
John proudly served his country for 22 years, as a member of the United States Navy nuclear submarine corps, retiring in 1983. His last duty station was as a professor of Naval Science at The Citadel in Charleston, SC.
While still in the Navy, John graduated from the University of South Carolina summa cum laude with a Bachelor of Science degree in Management. He went on to earn Senior Reactor Operator certification and certification in Senior Nuclear Plant Management from the Institute of Nuclear Power Operations while employed by Carolina Power & Light. John valued dedication to education and hard work and proved himself to be a strong mentor and leader, providing wise counsel to his colleagues through 23 years of service to the company.
Upon retirement from what was by then Duke Energy, John worked as a consultant to TVA for six years.
His hobbies included woodworking, fishing, golf and target shooting. He loved books and was a voracious student of history.
The family wishes to thank the Hospice nurses who tenderly cared for John. Special thanks to our beloved friends, Alexa and Bob Bates, for their many kindnesses and assistance.
With heavy hearts, to protect our family and friends from the virus, the family has decided there will be no calling hours or funeral service. Your loving thoughts and prayers have already honored John and his family. He will be laid to rest in Arlington National Cemetery. In lieu of flowers, memorials may be made to the American Kidney Foundation.