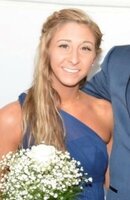 Regan Elizabeth Jones
A private family funeral service for Regan Elizabeth Jones, 23, will be held at Powers Funeral Home. The Rev. Joe Stines will officiate. A public graveside service will be held on Saturday, January 15, 2022 at 3:00 p.m. in Quaker Cemetery. In lieu of flowers, memorials may be made to the ALPHA Center.
Ms. Jones passed away January 8, 2022. Born in Camden, SC was the daughter of Jeffrey and Dawn Hendrix Jones. She was a former cheerleader and an alumni of Camden High School. She enjoyed fishing, going to the beach, shopping, and her family.
Surviving are her parents, Jeffery and Dawn Hendrix Jones; sister, Hannah Irick (Cole); brother Alan Jones (Allison); grandparents; Cheryl Hendrix, Billie Jones, and Lee Jones; nieces, Bellah Irick, Josie Irick, and Delaney Jones; and nephew, Wyatt Jones.