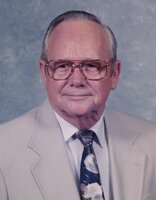 Wiley Thomas Hooks
COLUMBIA – A graveside service for Wiley T. Hooks, 88, will be held Thursday, January 13, 2022 at 1:00pm in Highway Pentecostal Holiness Church Cemetery, Elgin, S.C. The Rev. Timothy McIver and the Rev. Lee Porter will officiate. In lieu of flowers, memorials may be made to St. Jude Children's Hospital.
Mr. Hooks passed away at his home on Wednesday, January 5, 2022. Born in Wilson County, N.C., he was the son of the late Frank and Ava Hooks. Mr. Hooks served 23 years in the U.S. Army with tours to Korea and Vietnam. After his retirement, he worked 10 years for NAPA Auto Parts and 11 years for Carquest Auto Parts. He was a member of Highway Pentecostal Holiness Church where he also served on the church board.
Mr. Hooks is survived by his daughter, Karen J. Armstead (Ron) of Elgin, S.C.; and a brother, Danny Hooks (Nancy) of Mt. Olive, N.C.; and many nieces and nephews. He was predeceased by his wife, Willie Mae Hooks; sister, Ruby Matthews; and brother, Bryan Hooks.
The family would like to give a heartfelt thanks to his hospice nurse, Dawn, from Agape Hospice and his caregiver, Dawn, from McLeod Home Care.