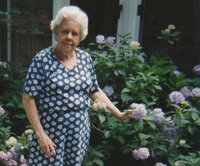 Margaret Brown Hall
CAMDEN – Funeral service for Margaret Brown Hall, 92, will be held on Friday, December 10, 2021 at 12:00 p.m. Powers Funeral Home, Lugoff, with burial to follow in Forest Lawn Memorial Park. The family will receive friends 10:30 a.m. – 12:00 p.m. prior to the service at the funeral home. In lieu of flowers, memorials may be made to the American Legion Post 17, P.O. Box 456, Camden, SC 29021.
Mrs. Hall, wife of the late James Clarence Hall, Sr., passed away on Tuesday, December 7, 2021 at home. Born in Lee County, she was the daughter of the late Harmon and Henrietta Arledge Brown. She worked for Skyline Manufacture and retired from Hermitage Mill. She attended Wateree Baptist Church.
Mrs. Hall was former co-owner of Hall's Catering. She enjoyed flowers and cooking and never let anyone leave her home empty handed.
Surviving are her sons, James Hall (Linda) of Lugoff, Bennie Hall (Irene) of Camden, Ronny Hall of Camden and Bobby Hall of Lugoff; daughter, Linda Ellis of Camden; sister, Curly Taylor (Earl); 13 grandchildren; 36 great-grandchildren; and 10 great great-grandchildren. She was predeceased by a son, Billy Hall, daughter, Peggy Hall Small; son-in-law, Sidney Ellis; grandchildren, Jason Hall, Wendy Lynn Hall, and Ashley Hall Bowers; and siblings, T.A. Brown, John Henry Brown, Woodrow Brown, Sonny Brown, Jackie Brown, Helen Jessie, Betty Edwards and Audrey Belk.