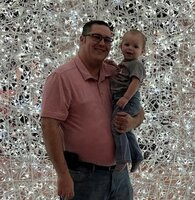 "Possum" John Curtis Key
STEUBENVILLE, OH – A funeral service for "Possum" John Curtis Key, 33, will be held Wednesday at 2:00 p.m. at Powers Funeral Home with burial to follow in Boonetown Cemetery. The family will receive friends Tuesday from 5-7 p.m. at the funeral home.
Possum passed away on Wednesday, November 17, 2021. Born in Camden, he was the son of John Key (Geneva) and Nancy Anderson (Bruce). He loved hunting, fishing, the beach, drawing, video games, and was a family man.
Surviving in addition to his parents is his wife, Amber Spindler Key; son, Mason Key; brother, Tommy Key; sister, Shannon Ashe; mother-in-law, Carolene Spindler-Small; father-in-law, Edward Briscoe (Pamela); sister-in-law, Katie Small; brother-in-law, Adam Briscoe; aunts, Tonia, Tina, Debbie, and Betty Jean; uncles,William and Steve, Jr.; and many nieces and nephews. He was predeceased by his grandparents, Ernest and Margie Key; and uncle, "Fat Boy" Jimmy Key.