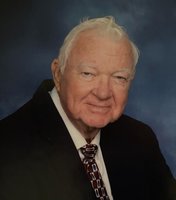 William "Bill" Murray Andrews
CAMDEN – Graveside service for William Murray "Bill" Andrews, 89 will be held Monday at 11:00 a.m. in Malvern Hill Baptist Church Cemetery. The Rev. Buster Morris and the Rev. Craig Thompson will officiate. The family will receive friends Sunday from 5-7 p.m. at Powers Funeral Home. In lieu of flowers, memorials may be made to Malvern Hill Baptist Church, Cemetery Fund.
Mr. Andrews passed away Friday, February 19, 2021. Born in Darlington, he was a son of the late Lawrence C. Andrews and Mary Ella Benton. Mr. Andrews was a member of Malvern Hill Baptist Church. He was an avid hunter and fisherman, and he retired from DuPont after 37 years. After his retirement, Bill enjoyed farming tobacco and raising turkeys with Prestage Farms.
Surviving are his wife, Mary S. Andrews; children, Karen Prater (Harold) of Columbia, Murray Andrews (Donna) of Rembert, Steve Andrews of Camden, Faye Carter (Doug) of Camden; 5 grandchildren and 9 great-grandchildren. He was predeceased by brothers Jackie and Earl Andrews and a daughter-in-law, Nancy Burgess Andrews.
The family would like to extend a special thanks to Bill's granddaughter, Pam Warner, and the staff at KershawHealth Hospice for their compassionate care.