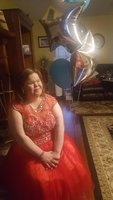 Jennifer Lee Carolyn Chambers
ELGIN – Funeral service for Jennifer Chambers, 40, will be held on Monday at 11:00 a.m., with a visitation 1hr prior, at International Praise Church of God. Burial will follow the service in Old Macedonia Cemetery. Pastor Doyle Roberts will officiate. The family will receive friends on Sunday from 5-7 p.m. at Powers funeral home. Memorials may be made to the ITAP ministries c/o International Praise Church of God.
Jennifer passed away on Thursday, November 28, 2019. Born in Lexington, SC, she was the daughter of Paul Chambers and Vivian McManus Chambers. She was a lovable child who enjoyed volunteering at the Ronald McDonald House. She was also a member of the Kiwanis Club of the Sandhills. Her love for God was truly amazing and she shared that love with everyone she met.
Surviving in addition to her parents are her siblings, Janis Chambers (Greg), Melissa Corley (Les), Chris Chambers (Nikki) and Larry Chambers (Misty); nieces and nephews, Troy and Dylan Grimsley, Kristina Long (Kent), Dana Gooding (Jason), Hannah Corley, Dru, Jacob, Taylor and Andslee Chambers; cousin, Tammy Dennis (Mike); and several great nieces and nephews.