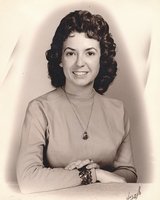 Jacqueline Abernathy "Jackie" Flowers
BISHOPVILLE – Memorial service for Jackie A. Flowers, 81, will be held on Sunday at 3:00 p.m. in the fellowship hall of Faith Baptist Church, 3403 Lee State Park Road, Bishopville. In lieu of flowers, memorials may be made to the American Kidney Foundation.
Mrs. Flowers passed away on Friday, November 15, 2019. Born in Columbia, SC, she was the daughter of the late George Lesley Abernathy and Ruth Iola Ehney Abernathy.
Surviving are her children, Dondi Flowers (Yvonne), Kemberlyn Kirkland (Rev. Olin) and Kenny Flowers (Kerry); grandchildren, Mercedes Flowers, Brent and Cody Lattimore, Delaney, Logan and Kennedy Flowers. She was predeceased by her husband, Harold Kenneth Flowers; sisters, Billie Kirby Carter and Nellie Kirby Wylie; and brother, Robert Martin Kirby.
The family would like to thank the staff of McCoy Nursing Home, Lifeline Ambulance and the members of Faith Baptist Church for their care and compassion.