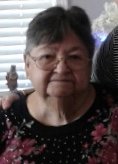 Ada Bell Stroud
CASSATT – A funeral service for Ada Bell Horton Stroud, 81, will be held Sunday at 3:00 p.m. at Mt. Pisgah Baptist Church with burial to follow in the church cemetery. The Rev. George Brasington will officiate. The family will receive friends Saturday from 6-8 p.m. at Powers Funeral Home. In lieu of flowers, memorials may be made to the Theil-Myer Pet Adoption Center.
Mrs. Stroud, wife of the late Floyd Stroud, passed away Wednesday, March 13, 2019. Born in Bethune, she was a daughter of the late Jake and Almetta Langley Horton. Mrs. Horton enjoyed reading her Bible, watching T.V., grocery shopping, and spending time with her family.
Surviving are her children, Debra Peebles (Ernest) of Maysville, Brenda Lee (Larry) of Lugoff, Virginia "Jenny" Hall (Ricky) of Cassatt, James "Edward" Kelly (Brenda) of Cassatt, Linda Pittman (David) of Lugoff, Rex. "R.H." Kelly, Jr. (Donnel) of Cassatt, Dianne "Peanut" Boykin (Steve) of Cassatt, Jeannette Carron (Joe) of Lugoff; brother, Minor Horton (Sylvia) of Hartsville; sister, Dianne Gainey of Bethune; 26 grandchildren; and 43 great-grandchildren. She was predeceased by grandson, David Garbade; great-grandson, David Yap-Kelly; and brothers, E.J., Jerry, and Ernest Horton.