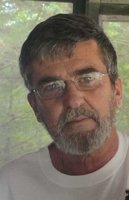 Jack Allen Kirk
CAMDEN – Jack Allen Kirk passed away on Friday, February 1, 2019 at the age of 64. Born on June 29, 1954 in Charleston, W.V., he was the son of the late Carolyn Ruth Kirk Fouty.
Jack served in the Marine Corps and National Guard for 21 years. He was a truck driver for 30 years.
He is survived by his children, Brady Lance Kirk (Carly Darling Kirk) and Sara Christina Nelson (William); grandchildren, Morgan Montgomery Kirk, William Anthony Lee Kirk, Abigail Elizabeth Kirk and Olivia Vonetta Kirk; sister, Iva Farley (Steve); brothers, Ralph Fouty (Diana) and Robert "Bobby" Fouty (Cathy); sister-in-law, Pauletta Fouty. He was predeceased by his son, Brian Lee Kirk; grandson, Brandon Robert Darling Kirk; brother, Charles Fouty.
A memorial service will be held at a later date in West Virginia.