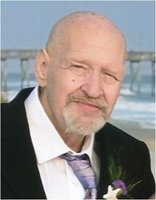 Glenn Keith Conrad
CAMDEN – Funeral service for Glenn Keith Conrad, 74, will be held on Wednesday at 3:00 p.m. at Powers Funeral Home, Lugoff. The family will receive friends one hour prior to the service at the funeral home. Burial will be Monday, February 11, 2019 at 1:00 p.m. in Roseland Park Cemetery, Berkley, MI. Memorials may be made to the American Diabetes Association.
Mr. Conrad, husband of the late Cynthia Conrad, passed away on Wednesday, January 30, 2019. Born in Detroit, MI, he was the son of the late Elmo and Helen Muhlitner Conrad.
Surviving are his children, Carla Lawitts (Randall) and Paul Conrad (Hannah); brothers, Bruce Conrad (Ginny) and Gerald Conrad; grandchildren, Kayleen Haldeman, Paul Drinkwine (Stacie), Laura Hall, Avoriana Conrad and Roman Conrad; and great-grandchildren, Hazel Louise Kelley, Brantley Drinkwine and Tametruis Gibbs. He was predeceased by Paul Conrad.