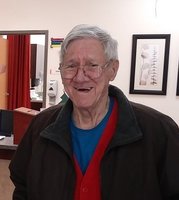 Richard C. Conley
ELGIN – A memorial service for Richard Clair Conley, 85, will be held on Saturday, January 26, 2019 at 3:00 p.m. at Salem United Methodist Church. Pastor Stewart Kidd will officiate. In lieu of flowers, memorials may be made to Salem United Methodist Church, PO Box 66, Elgin, SC 29045.
Mr. Conley passed away on Wednesday, January 23, 2019. Born on September 4, 1933 in Zona, W.V., he was the son of the late Hicel B. Conley and Beulah Mae Wolfe Conley. Richard served in the Air Force during the Korean Conflict. He was stationed in Germany where he met his wife, Meta Heitzer Conley. Richard was a parts manager at Chevrolet garage in Spencer, W.V. and then a parts manager at Dick Smith in Lugoff, S.C. He loved the W.V. Mountaineers.
Surviving in addition to his wife, Meta, is his daughter, Hilda C. Fleming (Dana); grandson, Richard E. Fleming (Christi); great-granddaughters, Kaitlyn and Allison Fleming; and brother, Robert Conley. He was predeceased by his sister, Midge Perkins; and sister-in-law, Barbara Conley.