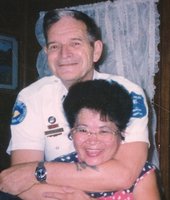 Rue J. ""Jack"" Cannup, Jr.
LUGOFF – A graveside service for Rue Jackson "Jack" Cannup, Jr., 83, will be held Wednesday at 3:00 p.m. in Fort Jackson National Cemetery. The family will receive friends prior to the service from 12:30 – 2:30 at Powers Funeral Home.
Mr. Cannup passed away Saturday, September 8, 2018. Born in Mooresville, N.C., he was a son of the late Rue Jackson Cunnup, Sr. and Ruth Florence Sisk Cunnup. Mr. Cannup retired after 20 years from the U.S. Army, including a tour in Vietnam and Korea. He went on to retire from the S.C. Department of Corrections, Westing House, and Pontiac Foods. He enjoyed reading and riding his tractor.
Surviving are his wife of 62 years, Yoshiko Kinjo Cannup; sons, Richard Cannup (Debbie) of Lugoff, Rue J. "Jimmy" Cannup, III of Irmo, Tony Cannup (Diane) of Columbia, Michael Cannup (Tina) of Irmo; siblings, Loise Tucker and Jerry Cunnup; grandchildren, Lisa, Adriana, Skye, Jordan, Ronin; and 5 great-grandchildren. He was predeceased by siblings, Joyce Williams and Daviese Cunnup.