The Help You Need for Funeral and Cremation in Ridgeway, SC
For almost a decade, Powers Funeral Home has been honored to assist the families of Ridgeway and the midlands of South Carolina. We understand that you want to pay tribute to your loved ones. That is why our expert staff is here to help you with the services and assistance you need during this difficult time. We want to help you celebrate your loved one's life in a way they would have wanted. We think that every funeral should be unique, and we will work with you to create a service that celebrates your loved one's life and personality. You can get more free advice and information from us by calling 803-408-8711.

Coordinating funeral and cremation in Ridgeway, SC, takes a lot of time and effort to ensure everything goes according to plan. During the experience of planning funeral services, you have the opportunity to create an event in honor of your loved one. What types of services do you prefer when friends and family are coming together for this gathering?
The possibilities are endless when working with our team at Powers Funeral Home. We honor your unique requests and needs, helping you find the ideal solutions for a memorable day. We listen to your requests throughout the funeral planning process, answer your questions, and provide advice and guidance as needed.
You can contact us at your convenience to discuss these quality services. Since we are a full-service funeral home, you have access to every service you require without the need to work with multiple providers.
The Solutions You Need for Funeral and Cremation in Ridgeway, SC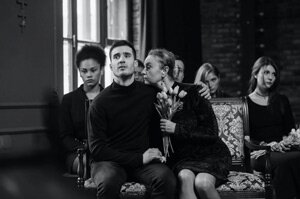 What do you feel as you consider the many decisions you need to make about an upcoming funeral plan? It can be stressful to carry the responsibility of coordinating funeral services. Instead of going through this process on your own, make sure you have the support of a trusted funeral planning team.
At Powers Funeral Home, we offer solutions and full-service support to make it as smooth as possible. We promise to provide the time and attention you deserve to create a beautiful day in honor of your loved one.
You can discuss available funeral packages with standard services that most people want for traditional funeral planning. Or talk to our team about cremation services, with options for direct cremation or a service combined with cremation.
Additionally, we can assist with administrative solutions, such as domestic or international transfers. Finally, if you need ship-in or ship-out services, we can assist in the transportation and coordination to ensure the highest levels of respect for your loved one through this process.
Start Today: Funeral Planning
There is no reason to delay your decision to start planning funeral services. Even if you are currently in excellent health, preplanning is something that you can do right now to prepare for the future. You never know when the time will come that funeral services will be necessary. Preplanning is a way to reduce the stress on your loved ones.
Preplanning means that you work with our funeral planning team right now. We'll explain the possibilities and provide the information you need to finalize the decisions related to this future event. Then, this information is held on file, so your loved ones have everything they need when the day comes that it's necessary to say goodbye.
We also offer pre-planning for people who know that the services will be happening in the next few weeks or months. For example, families can reach out for assistance when a loved one is diagnosed with a terminal condition. Getting started early gives the individual an option to participate in choosing the details of the event.
Where Should You Hold Funeral Services?
You know you want to host friends and family for funeral and cremation in Ridgeway, SC. But where is the ideal venue for the type of gathering you are planning? A funeral home is convenient because it contains all of the facilities you need, including rooms for large gatherings or intimate meetings.
Or you might work with our team to coordinate services at an off-site venue. For example, traditional funerals can be held in a church for families who want to maintain a religious theme for the services. On the other hand, different event venues are preferred for casual gatherings, such as a celebration of life.
Another possibility is to host the gathering at an outdoor location. One standard solution is to have a graveside service before the casket is lowered into the ground. Or you might pick a location for scattering the ashes. Invite friends and family to meet at this location. Then everyone can participate in the process of seeing the ashes scattering in the wind.
Customized Support and Guidance
Choose Powers Funeral Home, and you have the benefit of working with a team that will customize the outcome of your event. Our funeral packages cover the most critical elements necessary for traditional funeral and cremation services. You also have the opportunity to select other details to add in if some unique ceremonies or activities match your preferences.
We hold the highest levels of respect for your cultural or religious traditions through this process. The goal is to create a service that honors your family preferences and desires.
Talk to us to learn more about funeral and cremation in Ridgeway, SC. Powers Funeral Home has a beautiful location you can visit at 832 Ridgeway Rd, Lugoff, SC 29078. Call any time for information about these services: (803) 408-8711.
Funeral Home and Cremations FAQs

How Much Does Cremation with Burial Costs in Ridgeway SC?
The costs for cremation with burial will typically cost between $2,000 - $8,000 depending on the funeral home selected, the cemetery, and the services and products chosen. The average cost of a funeral in the US is typically around $7,000 and burial services costs around $1,000-3,000.
Are You Cremated with the Clothes On?
Usually, the body is cremated with clothes on, but it depends on the family whether they prefer to cremate their loved ones with clothes on. Some families choose to dress their deceased in their Sunday finest for a more celebratory funeral procession. Others choose to cremate their loved ones clothed in a simple hospital gown or cotton sheet. You can coordinate with the funeral home or crematorium on how you prefer this.
Does a Funeral Home Charge for the Obituary?
Most funeral homes will charge a fee for creating and publishing an obituary. The cost will vary depending on the funeral home and the length and complexity of the obituary. Most of the time, this is included in the overall contract for services. Check our FAQs page if you need answers.

POWERS FUNERAL HOME
Address: 832 Ridgeway Rd Lugoff, SC 29078
Mailing Address: PO Box 65 Lugoff, SC 29078