Time to Schedule Funeral and Cremation in Elgin, SC
We offer a variety of funeral services, including traditional ground burials and cremation choices in Elgin, SC for 9 years now. We also provide pre-planning for those who want their final resting place and event be arranged in advance. Powers Funeral Home knows that each person is unique and has their own story to share. But most importantly, we want you, as a family member or friend of the deceased to have an idea of how this celebration proceeds. Let us celebrate your loved one's departure with all the flairs they would have wanted it. Call us today at 803-408-8711.
Talking to a funeral director is the best place to start when you need information and guidance about funeral and cremation in Elgin, SC. There are a lot of decisions your family needs to make while coordinating these services, so it's essential to have a trusted team to assist through the process.
At Powers Funeral Home, we've been serving the community for years, offering quality services that you can trust. You are welcome to contact us any time to schedule a consultation and learn more about available funeral services. We will provide the answers you need to the most pressing questions.
Overview of Services: Funeral and Cremation in Elgin, SC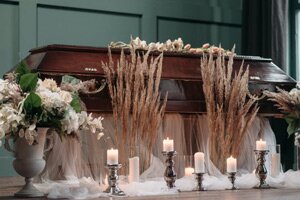 What are the ideal services for your funeral plan? Each person and family is unique, which is why it's essential to work with a funeral home that offers personalized services. You deserve a special event that highlights the beautiful life of your loved one. Our team walks you through every detail of funeral planning to help you select the ideal services for your traditions and family cultural influences.
Most of these decisions fall into these categories:
Laying to Rest: How and where would you like your loved one to be laid to rest? You can choose between either burial or cremation, with a variety of options within each of these subcategories. If you want a place to visit in the local cemetery, a burial is ideal. Or cremation is another option if you are looking for a unique resting place, such as an ash scattering or memorial urn.
Burial Services: Our team assists with cemetery coordination to ensure that every detail of the burial services goes according to plan. This process starts by choosing a cemetery, burial plot, and casket. Additionally, you'll want to consider the type of headstone that will be placed on the property. Burial is available for traditional caskets as well as burial urns if desired.
Cremation Services: It's no surprise that cremation is increasing in popularity. This service is a fraction of the cost compared to regular burial services. Since you aren't paying for a casket or burial plot, this money can be used to create memorial jewelry. Or you might find another way to memorialize your loved one through a tree planting or ash scattering ceremony.
Transfer of Remains: At times, it's necessary to transfer the remains to a different location. Are you planning funeral services in another city or state? Or maybe the person passed away somewhere else, and you need to bring them home. Our team at Powers Funeral Home can assist with all types of transfers, including ship-out services for international transportation or domestic services.
Event Services: Another detail to consider is the type of event that you would like to plan in honor of your loved one. Is there a way that you want to share their memory or life story? This process can be done through a traditional funeral or a small memorial service. We can assist in event planning for groups of all sizes, with options to host the services in our funeral home or at another location that you choose.
Administrative Details: The paperwork and coordination that happens behind the scenes matters for the overall success of the funeral services. When you choose a reputable team, like Powers Funeral Home, you can rest assured knowing that all of these administrative details are always carefully managed. We offer full services at all stages of funeral planning.
You can have confidence in the quality of services you'll receive here at Powers Funeral Home. We take care of your family at all times, offering ongoing support and customized care to ensure you are satisfied with the outcome of these services.
When to Start: Preplanning Is Ideal
When should you begin the process of funeral and cremation planning in Elgin, SC? Too often, families wait until the last moment before talking to a funeral director. As a result, there are many decisions that you'll need to make in a short period of time. We have a streamlined system you can use to work through the necessary details of last-minute funeral planning.
On the other hand, we always encourage you to plan ahead whenever possible. Preplanning gives you the flexibility of learning about the industry at your preferred time. There's no rush to make the decisions, which means that you can finalize the services when you feel comfortable and confident in the type of funeral plan you are designing.
Call for a Consultation
The simplest way to begin the funeral and cremation planning process in Elgin, SC, is to contact our team for a consultation. Reach out to us at Powers Funeral Home to discuss the options. We have a convenient funeral home you can visit, located at 832 Ridgeway Rd, Lugoff, SC 29078. Call any time for information: (803) 408-8711.
Funeral Home and Cremations FAQs

Who Should Write and Deliver the Eulogy?
Eulogies are usually written and delivered by a family member, friend, or colleague. If you're struggling with what to say or don't feel comfortable delivering the speech yourself, there are professional eulogy writers and speakers who can help.
Can You Include Personal Items in the Container for Cremation?
Yes, you can include personal items in the container for cremation. However, there are a few things to keep in mind. First, the items should be able to withstand the high temperatures of the cremation process unless you wanted them to be turned to ashes. Second, if you plan on having the ashes scattered, make sure that any items you include will not cause pollution or harm the environment. Finally, consult with your funeral director to ensure that your plans are feasible and in accordance with regulations.
What Benefits Do Funerals Offer to the Deceased and Their Loved Ones?
A funeral can offer many benefits to the deceased and their loved ones. It can provide a sense of closure, allow for final goodbyes, and help with the grieving process – as funerals provide a chance for close relatives and friends to gather and support each other. It can also be a time to celebrate the life of the deceased and to commemorate their memory. Funerals can be customized to fit the needs of the family and can be as simple or as elaborate as they wish.

POWERS FUNERAL HOME
Address: 832 Ridgeway Rd Lugoff, SC 29078
Mailing Address: PO Box 65 Lugoff, SC 29078